100% natural & digestible
Long lasting & low odour
Natural dental chew
Packed with flavour
Single source protein
Grain, gluten & lactose free
Rich in vitamins & minerals
Rich in trace elements & amino acids
Suitable for puppies over 16 weeks
No additives or preservatives
Non-splintering
Pathogen free
View full details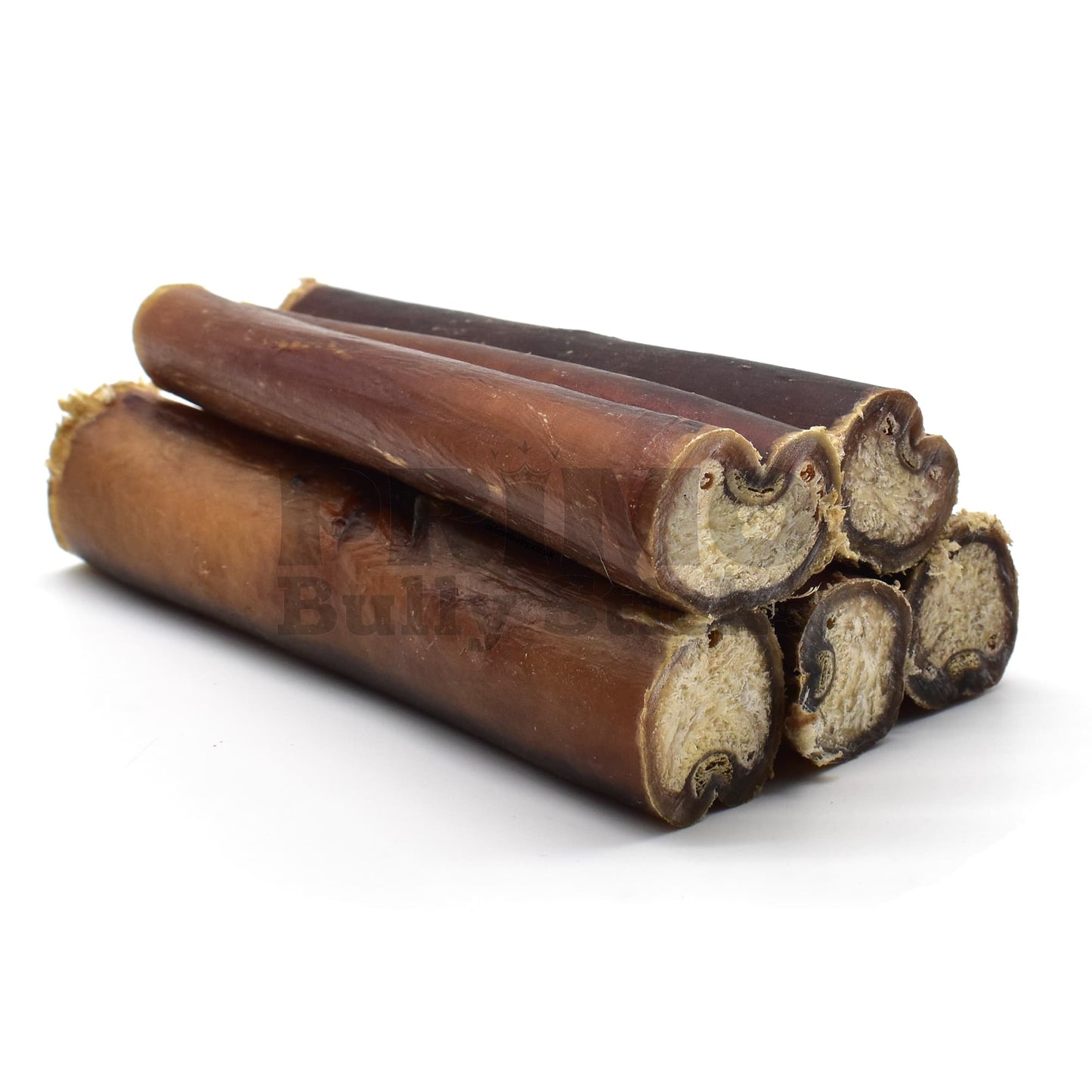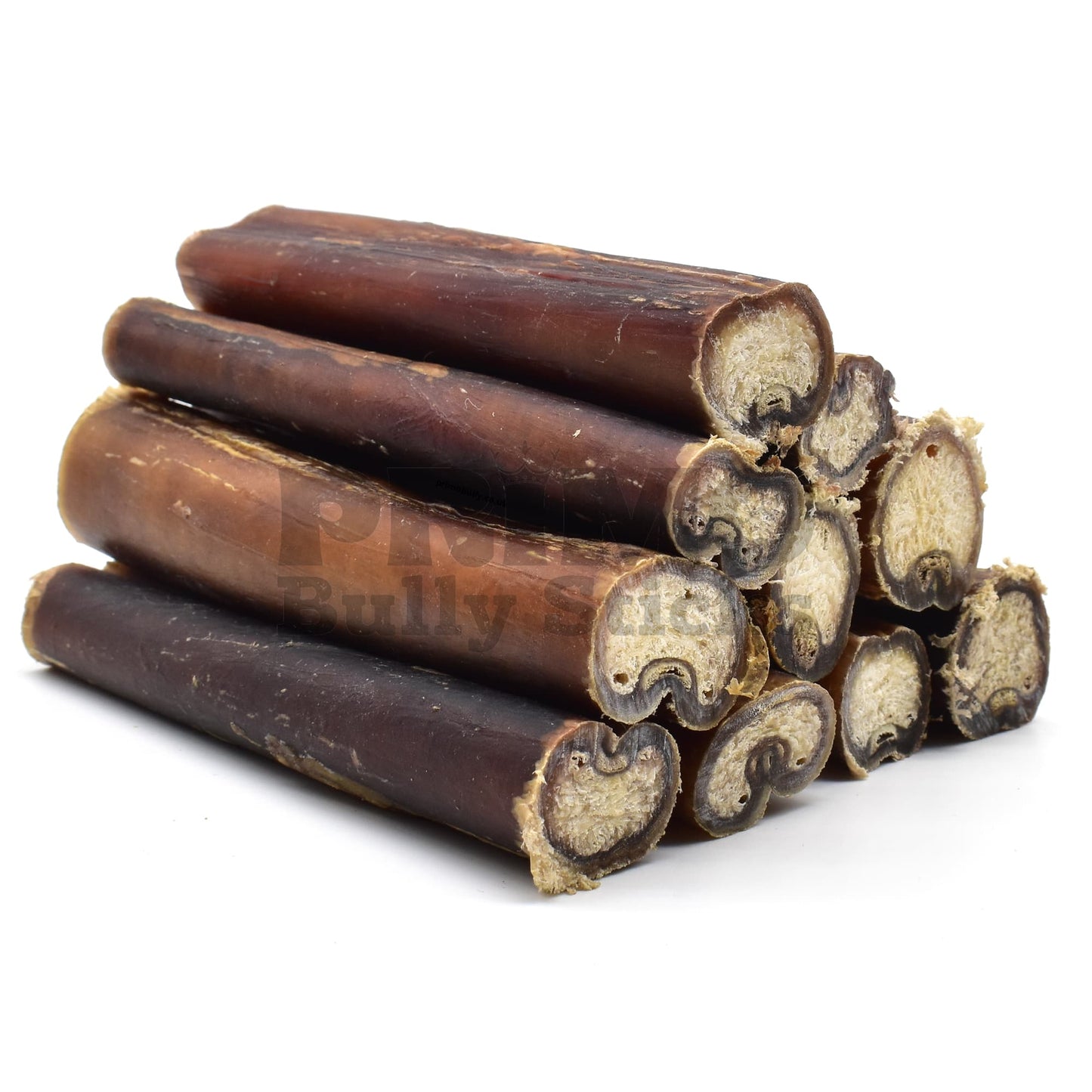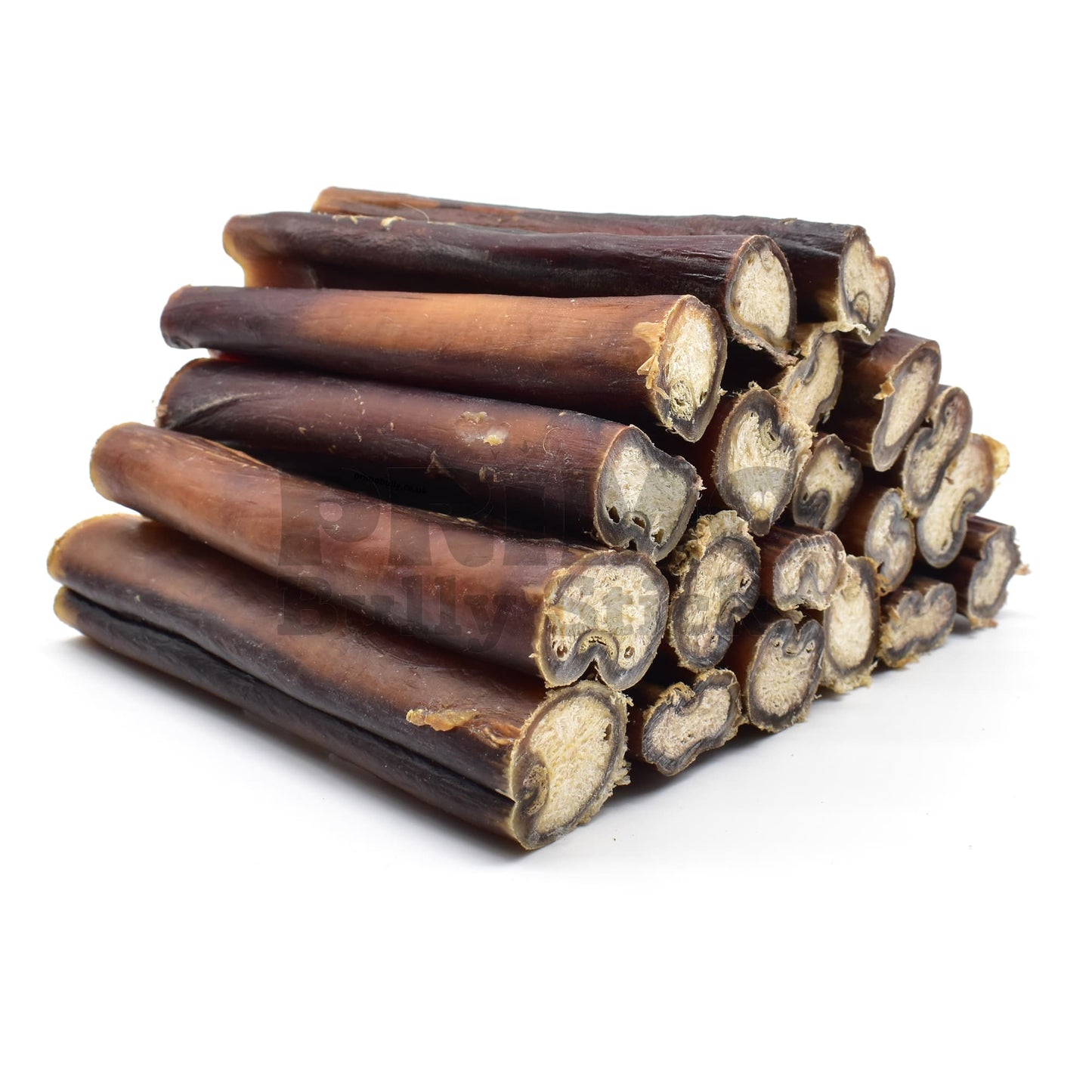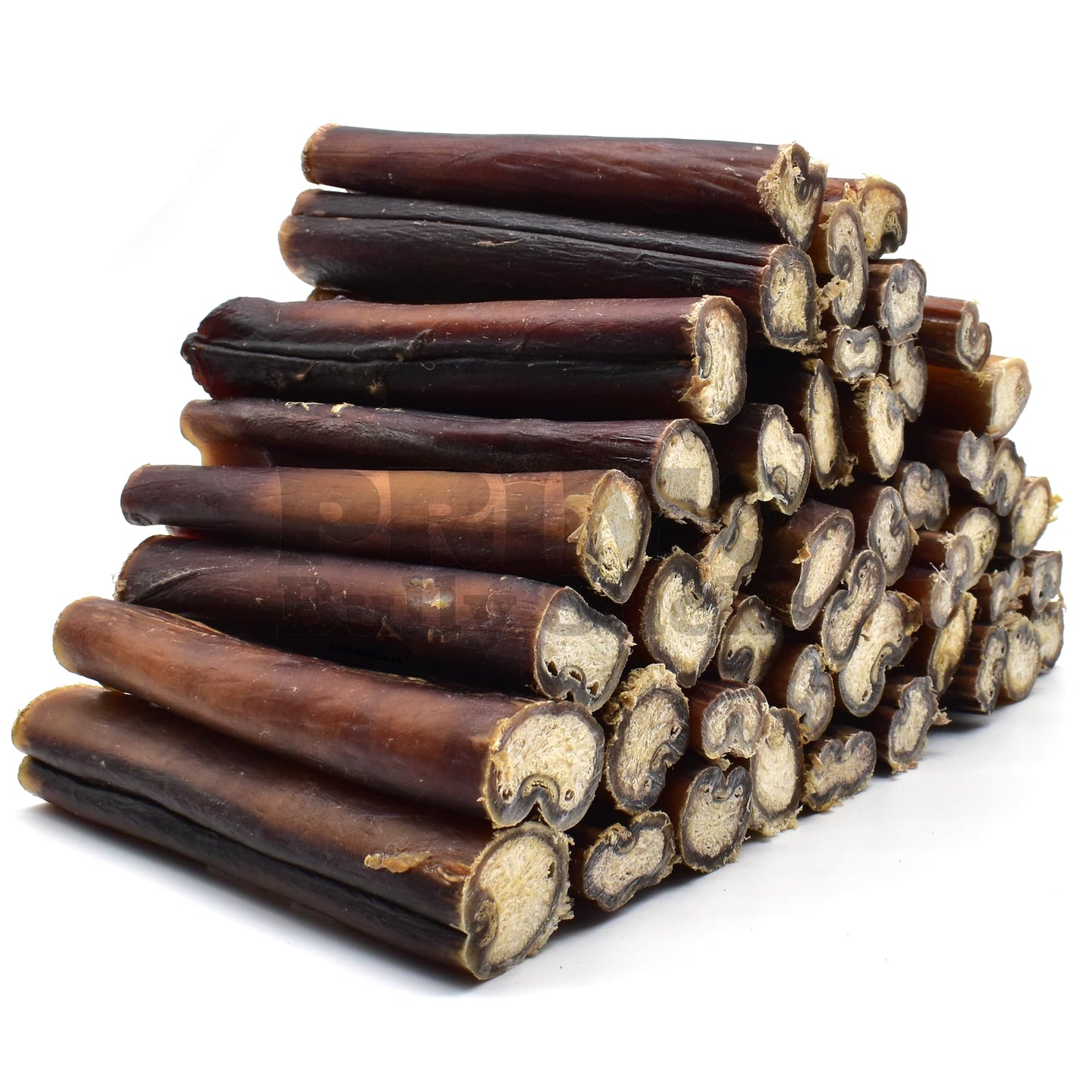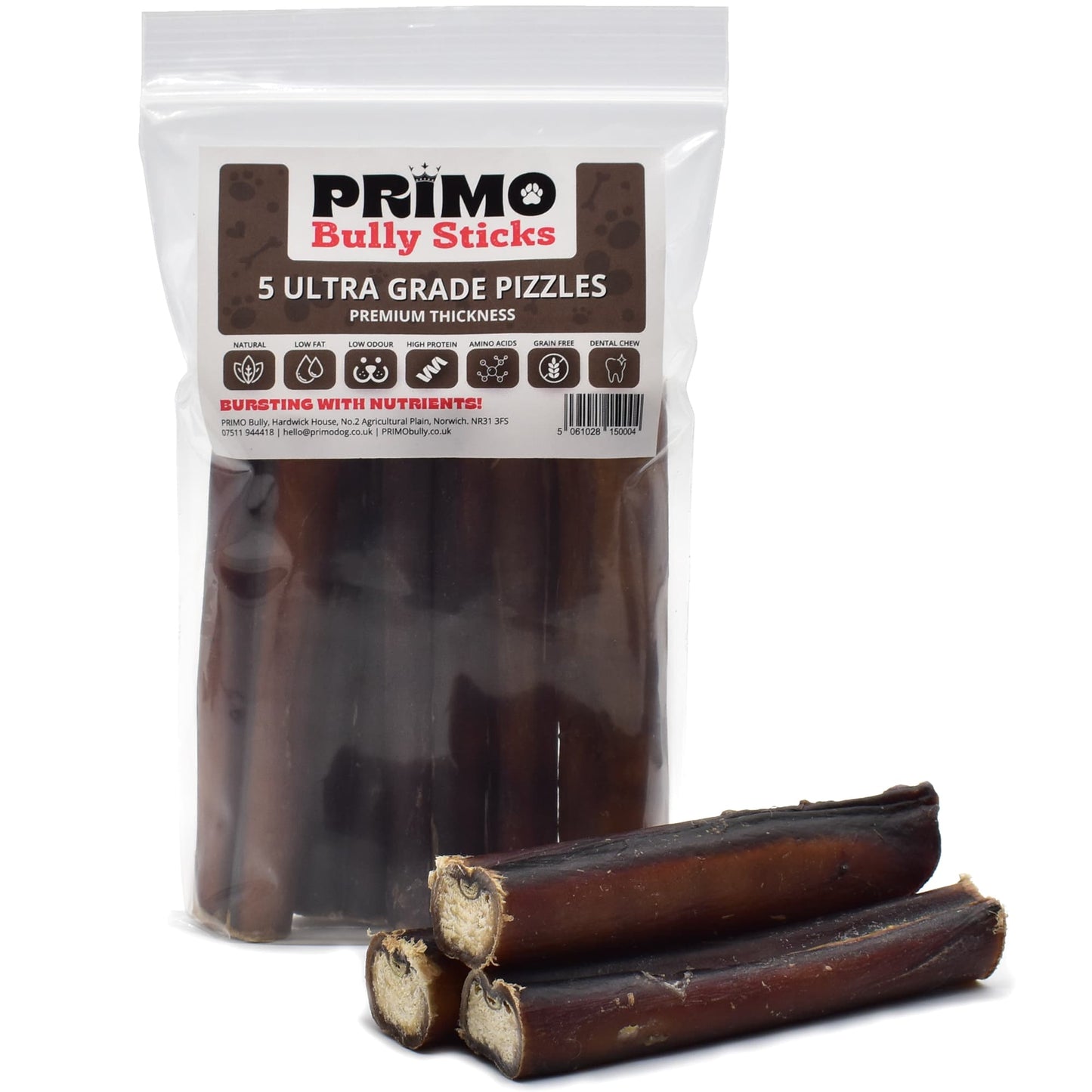 Ultra Grade Bully Sticks
Our ultra-grade bull pizzles are unlike any previously seen in the UK and are an exceptionally high quality, safe and healthy dental chew for dogs.
Made from only 100% natural high-protein beef, our low fat pizzle sticks are perfect for all dogs and contain a complete source of amino-acids which are essential in supporting the brain, muscles, skin & coat. If your dog suffers from a sensitive stomach, PRIMO beef pizzles are a fantastic option as they are completely natural and contain no chemicals, additives or preservatives!
100% Natural:

Our bully sticks are sourced from the highest-quality grass-fed beef and are free from any artificial additives, chemicals, or preservatives and are also grain, gluten and lactose free. 

Dental Health Booster:

Chewing on pizzle sticks helps promote good oral hygiene by reducing tartar buildup and plaque on your dog's teeth. Regular use can contribute to fresher breath and healthier gums, preventing dental issues such as gum disease which is one of the most common health problems in dogs.

Long-Lasting Chew:

Dogs are natural chewers, and our bully sticks offer the perfect outlet for their chewing instincts. Their durable texture provides extended chewing satisfaction, making them an ideal choice for keeping your dog occupied and preventing destructive behaviours. The chewing action releases serotonin and dopamine making dogs feel happy!

High Protein Content:

Packed with protein, our bull pizzles serve as a nutritious snack that supports muscle development and overall vitality in dogs of all sizes and ages.

Packed with Nutrition

Our pizzles for dogs are uniquely and naturally bursting with nutrients. They contain 22 different amino acids which aid in supporting the brain, muscles and coat, phosphorus to improve metabolism and the prevention of the formation of excess fat, calcium for strong bones and teeth, and numerous vitamins to improve overall health and vitality!


Joint and Bone Health:

The natural collagen and cartilage present in bully sticks contribute to joint health, making them an excellent option for older dogs or those with joint issues. The added support to their skeletal system will enhance their mobility and active lifestyle and the naturally occurring calcium aids with long-term bone and dental health.

Stress Relief:

Dogs often experience stress and anxiety, especially during separation or loud events. Chewing on bully sticks can help alleviate stress by providing a calming and enjoyable activity that distracts, relaxes, and releases feel-good chemicals in the brain. 

Low-Odour:

Our bully sticks undergo a specialised and computer-controlled air-drying process, ensuring that they are extremely low-odour so you can indulge your dog without the unpleasant smells. Most pizzles found in the UK smell like vomit - ours don't!

Healthy:

Our pizzles are naturally high in vitamins, minerals, trace elements and amino acids which support the brain, muscles, skin and coat. They are also 100% digestible and very low in fat.

Safe:

Our wonderful pizzle sticks are hand made with love in small batches to strict EU Regulations 142/2011 and 1069/2009 in pristine veterinary inspected and certified premises and exceed each and every health requirement. They are safe, they do not splinter, they are healthy, they are free of pathogens such as Salmonella, Campylobacter, E.Coli and are the highest quality available anywhere.


Approximate Weights:
Pizzles are a natural product so the width, appearance and weight of each 12cm pizzle stick varies, however these are the ranges for each pack size, 
| | | | |
| --- | --- | --- | --- |
| Pack Size | Regular Thickness | Premium Thickness | Ultra Thickness |
| 1 Pizzle | 20g-24g each | 25g-32g each | 33g-40g each |
| 5 Pizzles | 100g-120 Per Pack | 125g-160g Per Pack | 165g-200g Per Pack |
| 10 Pizzles | 200g-240g Per Pack | 250g-320g Per Pack | 330g-400g Per Pack |
| 20 Pizzles | 400g-480g Per Pack | 500g-640g Per Pack | 660g-800g Per Pack |
| 50 Pizzles | 1kg-1.2kg Per Pack | 1.25kg-1.6kg Per Pack | 1.65kg-2kg Per Pack |
Composition:
100% Beef Pizzle

Typical Analysis:
Protein: 88%, Moisture: 6%, Fat: 3%, Ash: 1%

Why should you buy this product?
These are the highest quality bull pizzles available in the UK.
Unlike the commonly found pizzles in the UK which have been imported from India and manufactured in unsanitary conditions, these are manufactured in pristine veterinary inspected premises and correctly heat-treated to eliminate pathogens and bacteria. Read More
Game changer
Heard of these but had stuck to raw bones. Bought these the other day, keeps the dogs entertained for a good long time, low smell, cleaner than raw, great value compared to Yak type treats
Best quality
Top quality bully sticks, my gsd loves them
Jasper approves!
Our Labrador has tried many brands of bully sticks & these are by far the best. They don't smell & last him a good 45mins where others were gone after 20! We will be buying again & in bulk.
Great chews
I wanted something to keep our pup busy when we're out or have vistiors over. I tried bones from the butcher etc but they were messy and smelly...
These are great. Last my 3 month old pup a good day, most of the time a day and a half. Keep him busy and tire him out haha.
I'm sure I'll have to get the thicker ones when he's bigger but for now the cheaper ones are great. Will definitely buy more when we're out of them!
Turns my dog into a cartoon character!
I have a young Doberman boy and the best part of his day is when we return from our evening walk. He knows EXACTLY which cupboard his bully sticks are kept in and he bounds in like a possessed rabbit and sits by the cupboard with the most ridiculous grin on his face with his tongue hanging out and his tail wagging.
He gets his evening bully stick then tears around the house like a cartoon character, spinning in circles with the sound of his claws ripping into the carpet.
It truly is the most ridiculous thing I've ever seen and I must try and capture the madness on video as I'm sure it'll make us "TikTok famous" 🤣